May 24, 2001

Tire Threat: The Road to Recall

Bridgestone Gives U.S. Unit Control Over the Tire Crisis

By TODD ZAUN
Staff Reporter of THE WALL STREET JOURNAL

TOKYO -- When Bridgestone Corp. replaced its tough-talking
former president five months ago with a reserved engineer, it
was a move typical of a Japanese company under fire. The
changing of the guard was a signal that Bridgestone, hoping
the crisis over deadly accidents involving its Firestone brand
tires was fading, would take the more diplomatic tack of
quietly waiting for things to get better.

But the storm battering its U.S. subsidiary,
Bridgestone/Firestone Inc., has returned. Bridgestone and
Ford Motor Co., whose Explorer sport-utility vehicles suffered
fatal accidents involving failures of Firestone tires, are again
trading accusations as Ford embarks on a second,
even-bigger recall of Firestone tires. And so Bridgestone's
new chief executive, Shigeo Watanabe, is shifting to a
strategy that in some ways is even more aggressive than
that of his combative predecessor to protect his critical U.S.
business.

A key part of that strategy is to give more autonomy than
ever before to an American management team, led by
Bridgestone/Firestone CEO John Lampe, to run the U.S.
operation's crisis-control effort without having to seek
constant approval from Tokyo.

Local Decision

That change was strikingly apparent on Monday, when
Firestone moved to sever business ties with Ford, as the
companies traded blame over the traffic accidents leading to
last year's recall of 6.5 million Firestone tires. In planning
talks before the announcement, Mr. Watanabe and Mr. Lampe
discussed the possibility of making such a break. But "Lampe
is the person who ultimately made the decision" to break
with Ford, Mr. Watanabe told reporters Monday in Tokyo,
stressing that he fully backed Mr. Lampe.

The move was in response to reports that Ford was planning
to vastly expand the tire recall, which it did Tuesday when
Chief Executive Jacques Nasser said Ford would replace 10
million to 13 million Firestone Wilderness tires that weren't
subject to the earlier recall initiated by
Bridgestone/Firestone.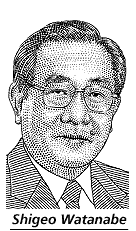 Leaving such a critical decision to its
American managers is unprecedented for
Bridgestone, and unusual among even the
most international of Japanese
conglomerates. Before Mr. Lampe took over
in October, the Japanese tire maker
essentially ran its Firestone subsidiary by
remote control from Tokyo, dispatching
Japanese executives, such as Mr. Lampe's
64-year-old predecessor Masatoshi Ono, to
serve as the link between local managers
and the headquarters.
Bridgestone spokeswoman Setsuko Ozaki said Mr. Watanabe
and other Bridgestone officials weren't available to comment.
A Losing Battle
The shift in strategy stems from a recognition by Bridgestone
executives in Tokyo that they were badly losing the public
relations battle with Ford, and needed to move quickly and
decisively to counter Ford's claims that problems with
Firestone's tires were the sole cause of the accidents.
The accidents have been linked to 174 U.S. deaths and more
than 700 injuries, mostly involving Ford Explorers that rolled
over after Firestone tires suddenly lost their treads.


Insiders acknowledge a shift. "We
have stated for a long time that
we didn't think the problem was
just with the tires. But Ford is
such a huge company and we are
just a supplier, our argument
wasn't having the same impact,"
said a Bridgestone executive. "In
the end, if we didn't make a big
announcement, such as ending
business ties, we didn't think we
could get our message out."
With Bridgestone's backing, Mr.
Lampe has also moved to give
the company a bigger voice in Washington by opening an
office there early this year and hiring a high-profile lobbyist.
Mr. Lampe has taken a more active role in publicly speaking
for the company than his predecessor, Mr. Ono, who
struggled through testimony before the U.S. Congress last
year.
Trading Punches
"It's a credit to the management of Bridgestone in Tokyo that
they did replace the linguistically challenged Japanese
manager with an American who is prepared to trade punches
with Jacques Nasser," said Howard Smith, an auto analyst at
ING Baring Securities in Tokyo.
To be sure, Bridgestone CEO Mr. Watanabe has so far shown
himself to be a much-less controversial figure than Yoichiro
Kaizaki, his predecessor, who originally made his name
turning around Firestone in the early 1990s after Bridgestone
bought the troubled U.S. tire maker. Mr. Kaizaki became
legendary in Japanese business circles for his toughness,
including the way he withstood withering criticism in the U.S.
over his attempt to break a strike by Firestone workers.
That attitude backfired in the recall crisis last year, when Mr.
Kaizaki compounded Bridgestone's public-relations woes in
the U.S. by maintaining a long public silence over the issue.
Mr. Watanabe, by contrast, held a news conference a day
after Mr. Lampe unveiled the rupture with Ford.
The question now is how far Mr. Watanabe will go in pursuing
the more aggressive public-relations campaign.
Distancing itself from Ford will allow Bridgestone/Firestone to
be more aggressive in making its case that Ford shares some
of the blame for the accidents. Bridgestone concedes there
were problems with the tires it recalled in August, but insists
that the design of the Explorer and Ford's decision to
recommend a lower tire pressure also played a role. Low tire
pressure can contribute to tire failures.
But Bridgestone's decision to fight back more fiercely against
Ford naturally entails big risks. "It seems likely that both
sides will end up covered in mud," says Clive Wiggins, an
analyst at Commerz Securities in Tokyo.
Write to Todd Zaun at todd.zaun@wsj.com