May 23, 2001

Page One Feature

Knowing Commerce Chairman Tauzin Has Perks for Those in Tire Imbroglio

By GREG HITT and STEPHEN POWER
Staff Reporters of THE WALL STREET JOURNAL

WASHINGTON -- At about noon Monday, shortly before
Bridgestone/Firestone Inc. announced its decision to
terminate a century-old business relationship with Ford Motor
Co., a lobbyist for the tire company, Wallace Henderson,
placed a call to the office of Rep. W.J. "Billy" Tauzin.

"We're going to have an early version of Pearl Harbor," Mr.
Henderson warned a Tauzin aide, Ken Johnson.

Later, Mr. Henderson got a call back from the aide, telling
him that Ford Chief Executive Jacques Nasser already had
scheduled a meeting with Mr. Tauzin for Tuesday. By day's
end Firestone Chief Executive John Lampe had gotten a head
start on his Ford counterpart, arranging a private phone
conversation with the congressman.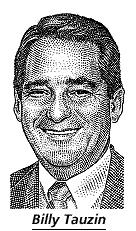 The day's rapid-fire events reflect a new
reality in the nation's capital. Just four
months into his reign as chairman of the
House Commerce Committee -- which
oversees just about everything that is
bought, sold, moved or traded in the United
States -- Mr. Tauzin, a peppery Louisiana
Republican, has become the man to see for
corporate chieftains in Washington. And a
bevy of his friends and former staffers are
building careers based on their connections
to him.
Even by Washington standards, Mr. Tauzin's web of corporate
contacts is impressively profuse, and his revolving door spins
unusually swiftly. Mr. Henderson, for instance, has been in
and out of that door repeatedly for two decades, alternating
between jobs on Mr. Tauzin's staff and stints as a private
lobbyist. He got his job representing Firestone last
September, after Rep. Tauzin publicly grilled company
officials during a hearing.
The tire-company lobbyist makes no apologies for his clients
being drawn to his ties to Mr. Tauzin. "I'm what you call
lagniappe," says Mr. Henderson. That's Cajun, he adds, for
"something extra."
With this week's new explosion of animosity and
finger-pointing, Ford and Bridgestone/Firestone are both
looking for something extra in trying to appease lawmakers.
Mr. Tauzin has called for hearings after Memorial Day to
examine Ford's claims that additional Firestone tires are
unsafe and need to be pulled from the road. Firestone is
firing back with charges that the design of Ford's popular
Explorer sport-utility vehicle also contributed to traffic
accidents, as did Ford's decision to recommend an inflation
level lower than what the tiremaker suggested.
While fighting fierce public-relations and
legal battles, both sides are scrambling
to influence Mr. Tauzin. In that effort,
Mr. Henderson has an inside track. He is
among a small clique of Tauzin
confidantes who occasionally congregate
in Wingate, Md., 115 miles east of the
Capitol, on 233 acres of prime
duck-hunting property that Mr. Tauzin
owns. The modest lodge on his property "is a place of sport
and recreation" only, says the 57-year-old chairman.
Friendship and official business, he adds, are entirely
separate.
Of his lobbyist and industry chums, Mr. Tauzin says, "I love
these people. It'd be horrible if I didn't have any friends." But
he insists, "They're not entitled to anything other than my
friendship. Anything else, they've got to earn."
Another Tauzin hunting buddy and former staff employee is
Louisiana-born lobbyist Dan Brouillette. Mr. Brouillette last
year helped Mr. Tauzin organize a fund-raising gala at the
Washington Hilton that brought in $7.2 million for the House
GOP campaign committee. The event benefited all Republican
House candidates. But it also fit into Mr. Tauzin's personal
strategy to win the gratitude of House colleagues, who then
supported him in a hotly contested intramural GOP race for
the coveted Commerce chairmanship.
Since Mr. Tauzin was chosen to head the committee, Mr.
Brouillette picked up two major new clients that will now
have an open line to the chairman: AT&T Corp. and Swedish
Match NA, a tobacco company. "You feel like a prom queen,
of sorts," Mr. Brouillette says of his recent popularity.
AT&T spokesman Jim McGann declines to address the value
of Mr. Brouillette's friendship with Mr. Tauzin but does say,
"The committee Congressman Tauzin leads has a great deal
to say about the future of our industry." A Swedish Match
spokesman declines to comment.
Mr. Brouillette now works at the lobbying firm Alpine Group,
but President Bush recently announced his intention to
nominate him to be assistant secretary of energy.
The runner-up in the contest for the Commerce Committee
chairmanship was Ohio Rep. Michael Oxley. As a consolation
prize, Mr. Oxley was given the chairmanship of a newly
created Financial Services Committee, which adopted most of
the commerce panel's responsibility for overseeing financial
markets. But Mr. Tauzin insisted his committee share
oversight of accounting standards, even though some in the
House argued those issues fit more naturally within the
jurisdiction of the new committee.
No one was happier about that small victory than Mr.
Brouillette, who represents accounting giant Arthur Andersen.
As a Tauzin aide, Mr. Brouillette worked on finance issues,
among other things. And during the closed-door struggle for
committee jurisdiction, he says he informally provided
ammunition to his former boss on the Commerce Committee's
history of oversight of the accounting industry. "People turn
to their friends," Mr. Brouillette explains.
Others who frequent the Tauzin hunting retreat near the
marshy banks of the Honga River are Tim McKone and Ward
White, in-house lobbyists for SBC Communications Inc. and
BellSouth Corp., respectively. Both have helped Mr. Tauzin
raise campaign money for GOP causes. The two Baby Bells, in
turn, would benefit enormously if Mr. Tauzin follows through
on his stated priorities for the current Congress.
Shortly after claiming the Commerce chairmanship, Mr. Tauzin
announced he would push legislation -- long blocked by the
previous committee leader -- that would make it easier for
Bell companies to carry long-distance Internet traffic, by
eliminating a requirement that they first get regulatory
approval. The bill, which Mr. Tauzin recently steered through
his committee, is expected to pass in the full House but
faces a tougher road in the Senate.
"Friendships do mean something," says Mr. White, who has
worked for BellSouth since 1995 and earlier was an aide to
former Senate Majority Leader Robert Dole. And tramping
through the marshes of Maryland's Eastern Shore in pursuit of
mallards is well worth the time and wet boots. "If
[lawmakers] know who you are," Mr. White says, "they're
going to give you a fair hearing."
Friendships work in both directions. Mr. Tauzin's son was
hired, at his urging, as a lobbyist in Louisiana for BellSouth.
During last year's fight over the Commerce Committee's
leadership and jurisdiction, Mr. Tauzin also managed to hold
onto oversight of online-trading systems, even though most
other brokerage-related issues ended up in the Financial
Services Committee. As it happens, while that jurisdictional
spat was going on, another of Mr. Tauzin's Cajun colleagues
and former employees, Mimi Simoneaux, was representing an
online-trading affiliate of Datek Online Holdings Corp., while
working as a lobbyist at the Washington firm Clark &
Weinstock.
In January, Ms. Simoneaux signed on as chief of staff of Mr.
Tauzin's personal office. She had earlier worked for him from
1991 to 1998, when she left to try her hand at lobbying.
A central player in the network of Louisiana friends and
lobbyists who surround Mr. Tauzin is Mr. Henderson. They
first met in the 1970s, during Mr. Tauzin's turn through the
state legislature in Baton Rouge. When Mr. Tauzin was
elected to Congress in 1980, Mr. Henderson followed him to
Washington as a staff member and has done two other stints
as an aide to the congressman since. During spells as a
lobbyist and political consultant, Mr. Henderson has
represented telecommunications interests and the state of
Louisiana, among others.
'Like an Older Brother'
"Billy has been like an older brother to me," Mr. Henderson
says.
With his thick white hair and beard, Mr. Henderson, 56, bears
a passing resemblance to Kenny Rogers, the country singer.
At the private 116 Club on Capitol Hill, a plate of pork chops
and sauerkraut grows cold before him as he is repeatedly
interrupted by fellow lobbyists offering greetings.
His last stint as a Tauzin aide ended 20 months ago, when
he went back to lobbying, based largely on his access to Mr.
Tauzin and his experience drafting legislation. Initially
working on his own, Mr. Henderson quickly picked up two
communications clients with interests before the Commerce
Committee: the Cellular Telecommunications and Internet
Association, which represents wireless phone companies, and
the U.S. Telecom Association, a trade group representing
local Bell companies. A few months later, Mr. Henderson
joined Public Strategies Inc., an Austin, Texas-based
lobbying firm, bringing along his old clients and adding two
others that reflected the value of his Tauzin connections:
Fantasma Networks, a Palo Alto, Calif., telecommunications
company, and Itron Inc., a Spokane, Wash., manufacturer of
remote utility meter-reading devices.
With Mr. Henderson's help, Fantasma executives secured a
meeting with Mr. Tauzin last fall, seeking support for the
firm's application before the Federal Communications
Commission to create a new wireless network.
Mr. Tauzin didn't immediately respond to Fantasma's plea,
and now it's too late. The company shut down this year
because of a lack of financing. But founder Robert Aiello says
he was grateful for Mr. Henderson's providing an "opportunity
to educate the chairman."
That's precisely what Bridgestone/Firestone hoped for, as
well, when its officials met last September with colleagues of
Mr. Henderson's at Public Strategies to discuss obtaining his
services. It turned out that at the very same time,
representatives of Ford were meeting with Mr. Henderson
himself to see if he was available.
Most of the fatal accidents leading to the Firestone recall
involved Ford Explorer SUVs. Public Strategies turned down
the car company because Ford and Bridgestone/Firestone
were already blaming each other for problems with Firestone
tires.
Firestone spokespeople decline to say why the company hired
Mr. Henderson's firm. A Ford official declines to comment on
the company's dealings with Public Strategies.
Mr. Tauzin's panel is asking all tiremakers and manufacturers
of light trucks, sport-utility vehicles and minivans for data
that would indicate whether the Firestone recall was an
isolated event or reflects a broader safety problem involving
tires and certain kinds of vehicles. Since January, the
committee has asked companies to submit warranty data for
their products, as well as recommended tire-inflation levels.
Mr. Johnson, the Tauzin aide, says the committee is still
gathering the data.
Still on the 'Radar Screen'
"We're not done with the tire companies yet," Mr. Johnson
says. In addition to the Commerce Committee review, the
congressman is awaiting the results of the National Highway
Traffic Safety Administration's investigation of Firestone's
recall of 6.5 million tires linked to 174 traffic deaths. That
report could lead to another round of hearings. "When our bill
was passed last fall, a lot of people thought that that was
the end of the story," Mr. Johnson says. But "the issue
continues to be on our radar screen."
Since the beginning of the year, Bridgestone/Firestone's
chairman, Mr. Lampe, has made at least three pilgrimages to
Capitol Hill. He has talked with lawmakers from North
Carolina and Tennessee -- home to many company
employees -- and met most recently, in March, with Mr.
Tauzin. Mr. Henderson was on hand to make introductions,
and the charm campaign appears to have built some
goodwill.
Mr. Tauzin was impressed with the sincerity of Mr. Lampe's
promise that the company will do whatever it takes "to
prevent this from happening again," says Mr. Johnson, the
Tauzin spokesman.
"The next time there's a fire," Mr. Henderson says, echoing
the pitch he has been making for his embattled client, "you
want to be there before the barn is burning down."
Write to Greg Hitt at greg.hitt@wsj.com and Stephen Power
at stephen.power@wsj.com