May 23, 2001

Tire Threat: The Road to Recall

Early Signs of a Major Malfunction

Mounting evidence shows that Ford and
Bridgestone/Firestone knew about tire-tread separation
problems years before the first recall was announced in
August.

November 1978: Firestone recalls 13 million tires following
escalating reports of accidents and deaths involving tread
separation on steel-belted radial tires.

May 1988: Bridgestone, the world's No. 3 tire maker,
completes its $2.6 billion acquisition of Firestone, the No. 2
tire maker.

February 1989: Ford enlists an independent research lab to
measure the performance of 17 Firestone tires. The lab
reports there were problems with tires experiencing belt-edge
separation on five of 17 test runs.

March 1990: The Ford Explorer is
introduced as a 1991 model, overlapping
with the discontinuation of the Bronco SUV
model.

January 1995: The newly redesigned 1995
Ford Explorer is introduced to the SUV
market.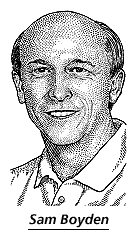 July 1998: State Farm Insurance researcher
Sam Boyden sends an e-mail to the
National Highway Traffic Safety
Administration outlining a pattern of flaws
he sees in a study of 21 cases of tread separation on
Firestone ATX tires. Mr. Boyden continues to file periodic
information to NHTSA about subsequent accidents involving
tread separation.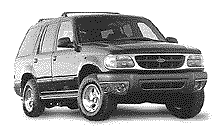 October 1998: In Venezuela,
Ford notes problems of tread
separation on Firestone tires
mounted on Ford's popular
Explorer SUVs and other
light-truck models, and sends
examples of such failed tires to
Bridgestone/ Firestone for
analysis.
August 1999: Ford begins replacing Firestone tires on
Explorers sold in Saudi Arabia after it received information
about tread-separation problems. Ford does not highlight
safety concerns, but instead calls the replacement program a
"customer notification enhancement action."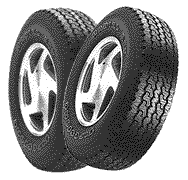 May 2000: In Venezuela, Ford
changes tire brands to Goodyear as it
waits for Firestone's U.S. offices to
come to a resolution on the mounting
tire problems. Ford's replacement
action covers about 39,800 vehicles.
May 8, 2000: NHTSA launches a
formal investigation into alleged
tread separation on Firestone ATX
and Wilderness tires.
July 28, 2000: Ford sets up a "war room" at its Michigan
headquarters. The team tries to find a common denominator
in the incident reports, such as a tire-manufacturing plant or
a geographic region. Others begin canvassing tire makers
world-wide to see if there would be enough tires available to
accommodate a recall.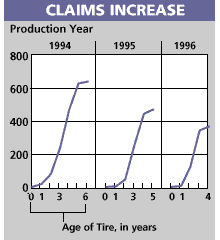 Aug. 4, 2000: Ford finds a pattern in data pointing to 15"
ATX and ATX II tire models and Wilderness AT tires made at
the Decatur, Ill. plant, and calls in Firestone experts; the two
firms work through the weekend verifying all findings. Ford's
data analysis showed that older tires produced at the
Decatur plant received more claims against them as the
production year decreased.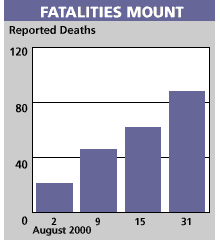 Aug. 9, 2000: Bridgestone/Firestone announces a
region-by-region recall of more than 6.5 million tires, the
majority of them mounted as original equipment on Ford
Motor Explorers and other Ford light trucks. The Firestone
brands affected include 15-inch ATX, ATX II and Wilderness
AT tires.
Aug. 30, 2000 Federal regulators recommend that
Bridgestone/Firestone expand the recall to include an
additional 1.4 million tires. The company refuses. NHTSA
recommends consumers replace the tires.
Aug. 31, 2000 NHTSA seeks information from State Farm
Insurance on possible problems with 16-inch Firestone tires.
Sept. 1, 2000: NHTSA announces it has found another 24
Firestone tire models of various sizes that showed rates of
tread separation exceeding those of the recalled tires. The
announcement came just as the agency boosted to 88 from
62 their estimate of U.S. deaths allegedly linked to Firestone
tire failures.
Sept. 12, 2000 Top Bridgestone/Firestone officials admit the
company made "bad tires" and blamed the design and
manufacturing flaws for problems with the recalled tires.
Sept. 2000 Ford and Firestone executives testify before a
congressional committee, defending their handling of the
crisis but criticizing each other.
Oct. 1, 2000 Federal regulators say they are investigating
another brand of Firestone tires, Steeltex, for tread-
separation defects.
Dec. 18, 2000 A Firestone study cites the weight of the
Explorer and the relatively low 26 psi recommended tire
pressure as a possible factor in crashes.
Jan. 8, 2001 Ford and Firestone settle high-profile Texas
case, agreeing to undisclosed compensation for a woman
paralyzed in an Explorer rollover crash.
April 2001 Ford launches redesigned 2002 Explorer, most of
them equipped with Goodyear or Michelin tires.
May 21, 2001 Firestone abruptly ended its 95-year
relationship as a supplier to Ford, accusing the auto maker of
refusing to acknowledge safety concerns about the Explorer
sport-utility vehicle.