Ford Says It Will Be Fit Enough To Weather Sales Drop-Off in 2001
December 5, 2000

By JOSEPH B. WHITE
Staff Reporter of THE WALL STREET JOURNAL

DEARBORN, Mich. -- Ford Motor Co. Chief Executive Officer Jacques
Nasser said he expects U.S. vehicle sales in 2001 to ease to about 16.5
million vehicles, but he expressed confidence Ford will weather the
slowdown in good shape.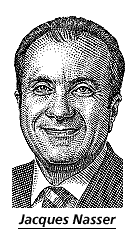 Ford last week issued a warning that its
fourth-quarter profit would be about 75 cents a
share, or 10 cents below previous Wall Street
forecasts. Mr. Nasser wouldn't comment on
projections for the first quarter or all of 2001.
Analysts are projecting earnings of 84 cents a
share for the quarter and $3.39 a share for the
year, according to a survey by First Call/Thomson
Financial.
Mr. Nasser said the economy appears to be heading
for a soft landing after a series of Federal Reserve
rate increases. "For our industry, it's soft, but it's
sudden," he said. "Many companies were surprised
and were left with unusually high inventories," he said.
The slowdown in the U.S. vehicle-sales pace from annualized levels close
to 19 million vehicles earlier this year happened "very quickly," Mr.
Nasser said. Auto makers had to rapidly overhaul production plans
geared to higher volumes.
"We should be able to adjust quickly and align
production with demand," he said. Actions Ford
has taken to slow production should be "what's
needed if the market doesn't deteriorate any
further," he said.
But Mr. Nasser said he is optimistic that Ford
will weather the slowdown well. He said several
new products are due to hit the market this
year, including a new Ford Explorer sport-utility
vehicle, the Escape compact SUV, and the
Jaguar X-Type entry-level luxury car.
"There's very little that can substitute for strong products," he said.
"The weak suffer first. We've got the strongest brands, and they're
diverse in demographics and appeal."
In addition, Mr. Nasser said Ford will be slowing factories from speeds in
excess of rated capacity to a more normal pace. That could help Ford by
giving suppliers and factory workers more time to attack problems that
have hampered the launch of some key Ford vehicles, notably the new
Escape, he said. The slowdown "gives us an opportunity to take some
tension out of the system," Mr. Nasser said.
Mr. Nasser added that Ford will look for ways to cut costs further, but
he declined to outline specific new actions, noting that Ford has cut
operating costs significantly during the past several years.
"I see opportunities in every area of the business: costs, investment,
revenue growth," he said. "I wouldn't look at it as a need only to reduce
costs."
Write to Joseph White at joseph.white@wsj.com