Ford, Firestone Will Now Work Together To Find an Explanation for Tire Problems
December 1, 2000

By TIMOTHY AEPPEL, STEPHEN POWER AND JOSEPH WHITE
Staff Reporter of THE WALL STREET JOURNAL

Ford Motor Co. and Bridgestone/Firestone Inc. are trying to smooth
over their past antagonisms as the companies seek a common
explanation for fatal accidents involving failed tires.

Ford and Firestone are now exchanging preliminary findings into the
root cause of the tire failures ahead of each company meeting with
National Highway Traffic Safety Administration officials starting Dec. 11
to brief the agency on their respective investigations. The companies
apparently want to present a united front to federal regulators and,
ultimately, to the public.

Working together is a major departure for Ford and Firestone, which
have been sniping at each other since the Aug. 9 recall of 6.5 million
tires, most of which were sold with Ford's popular Explorer sport-utility
vehicles. The failure of those tires is allegedly linked to 119 deaths in the
U.S. and more than 40 overseas.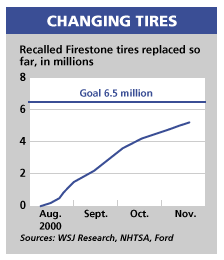 During September congressional
hearings into the recall, Ford
executives accused Firestone of
withholding crucial claims data that
could have signaled safety problems
much earlier. Firestone, for its part,
blamed Ford for recommending
tire-inflation pressures that were too
low and allowed inadequate safety
margins. Ford insisted repeatedly that
the problem was entirely with the tires.
Firestone, the U.S. unit of Japan's
Bridgestone Corp., has said it was
exploring problems with tire design and
manufacturing, but also the interaction
of the vehicle with the tire.
But clearly, the companies have concluded that the finger-pointing they
engaged in during those public hearings damaged both sides in the eyes
of consumers who were left confused and skeptical about both the tires
and the vehicles. In order to move on, both sides need to offer buyers
a clear explanation of what went wrong and the assurance that it has
been fixed.
"Let's face it, it doesn't do either company any good to have dueling
analyses," says one person familiar with the situation. Forging a
common front could also help the companies face a mounting wave of
litigation targeting both companies. "If one of the primary issues in
these lawsuits becomes 'Why are the tires failing?' it looks awfully bad if
one stands up and says 'it's failing because of this' but the other
stands up and says 'No, it's that,' " says Tab Turner, an attorney in
Little Rock, Ark., who represents plaintiffs suing tire companies.
Firestone is conducting an internal investigation and has hired an
independent analyst from the University of California at Berkeley to
study why the recalled tires failed. Ford also is doing its own
investigation into the tire failures, including the molecular makeup of the
tires and how they perform on vehicles. The auto maker won't share its
preliminary findings.
Ford spokesman Ken Zino says "We continue to meet with both NHTSA
and Firestone to work on a resolution of this."
Ford and Firestone engineers have been exchanging large quantities of
technical data in an effort to agree on the root cause of the tire failures.
"We continue to meet on this and we are making progress," Mr. Zino
says. But so far, he said, the two companies haven't come to a single
conclusion. "It's more a question of interpretation than major
differences" over facts, he says.
"The key is to make sure we understand what happened and more
importantly to prevent its recurrence," says Mr. Zino. He added that
Ford believes it owes an explanation to its customers.
Christine Karbowiak, a Firestone spokeswoman, says the tire maker has
had continuing talks with NHTSA and Ford and that the coming NHTSA
meetings are part of that process.
Although most members of Congress have turned their attention away
from the Firestone recall, NHTSA officials are under pressure to finish
their investigation by March, a deadline originally set in September by
Transportation Secretary Rodney Slater. The agency is trying to
determine whether Firestone should be forced to broaden its recall,
which is now limited to certain Wilderness AT, ATX and ATX II tires.
Regulators have said an additional 1.4 million tires of various sizes are
dangerous and should be included in the recall, but Firestone officials
dispute that claim.
Write to Timothy Aeppel at timothy.aeppel@wsj.com, Stephen Power at
stephen.power@wsj.com and Joseph White at joseph.white@wsj.co