Firestone Recall Drives Interest in 'Smart' Tires
November 22, 2000

By TIMOTHY AEPPEL
Staff Reporter of THE WALL STREET JOURNAL

Tires can be made to do amazing things. They can sense a drop in their
internal pressure and automatically pump in more air. They can be built
to run safely for miles after a blowout and to signal when they're
leaking. They can even link to the Internet.

Now, thanks to the Firestone fiasco, drivers may actually start seeing
some of these things, beginning with pressure monitors.

In the wake of Bridgestone/Firestone Inc.'s massive tire recall, Congress
has mandated that within three years all new cars will be outfitted with
warning systems to indicate to the driver when a tire is significantly
underinflated. Low inflation is considered a major factor in tread
separations that have been linked to 119 deaths in the U.S. and more
than 40 overseas, mostly on Ford Motor Co.'s Explorer. Underinflated
tires build up levels of heat that can damage the internal structure of a
tire.

But this is just the tip of the tire-technology iceberg. The day may be
coming when people view tires as they do the maze of parts under the
hood: far too complicated by electronics and other gadgetry for a
layman to fiddle with.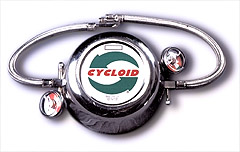 That's quite a switch. Until now, not
many consumers or car makers have
been willing to pay extra for fancy
tire features. Indeed, tire makers
have struggled to sell new safety
measures to car makers, who have
repeatedly balked at the increased
cost, leaving proven technologies
languishing on shelves and in
laboratories. Now that Congress has
weighed in, car makers have no
choice.
Pressure monitors have existed for
decades. Congress tried to require
them after an earlier Firestone recall
in the 1970s, but that initiative was
dropped by the Reagan administration as part of its effort to streamline
government regulation.
Some cars are sold with monitors, but it's hardly widespread. Systems
are also available that can be added to existing cars. But until
Firestone's problems, few car makers thought of the feature as
something that most buyers cared much about.
"It's one of those driver-convenience, security-type of features that
we've quietly installed and not done much about on the marketing side,"
says Terry Rhadigan, a spokesman for General Motors Corp.'s technical
center in Warren, Mich. GM figures about a third of its 2000 model-year
cars have some type of pressure monitor. The systems are sold either
as standard equipment or included in a package of features, so there
isn't a specific price tag attached to it, Mr. Rhadigan says.
Monitors come in many forms. Some are as simple as a flashing light on
the dashboard or a buzzer, while others allow a driver to scroll through
the various tire positions and see a digital readout of the tire pressure
on each of the four tires. Some integrate the display in the overhead
console, while others put the display in the dashboard or even the
rearview mirror.
Some systems use radio waves sent directly from the tire to a receiver
viewed by the driver. Others piggyback on a vehicle's existing antilock
braking system and are simply programmed to watch for subtle changes
in the speed a tire is spinning, which can indicate changes in tire
pressure.
Bob Ellis, vice president of product marketing and brand development
for auto-parts supplier Johnson Controls Inc., says his Milwaukee
company has seen a surge of interest on the part of car companies in
monitoring technology since the Firestone recall. "Auto makers want to
do something very quickly," he says.
Johnson Controls will start selling a system in January that can be
retrofitted to existing cars. The system requires installing sensors on
each tire and a special rearview mirror that integrates a battery-powered
monitoring display into it.
"Future generations will measure a lot of other things besides
pressure," such as the load being carried by each tire, Mr. Ellis says.
Too much weight can increase the stress on a tire and elevate the
temperature of the materials that make the tire. Heat can break down
the bonds that hold the tire's components together.
Schrader Electronics, part of Britain's Tompkins PLC, sells a monitoring
system built around a special air valve. The next generation of the
valves, according to the company, will measure the temperature of the
air inside a tire, thus keeping an eye on the heat, as well as its
pressure. "We'd like to think that in the future we'll have sensors in
different parts of the tire" such as the tread and the sidewall, says Carl
Wacker, a spokesman.
There are even more things on the drawing board. Cycloid Co., a tiny
company in Cranberry, Pa., has developed a device about the size of a
hockey puck that monitors tire pressure and keeps it at a preset level.
The company already sells a version for trucks and is working with
Goodyear Tire & Rubber Co., which holds a minority stake in Cycloid, to
develop one for cars.
Grant Renier, founder of the company, says his system could even
transmit information about an emerging tire problem directly to the
Internet. Drivers "would get a call on their cell phone, with a human
voice telling them the location of the nearest service station," Mr. Renier
says.
Run-flat tires are another technology getting a boost from the Firestone
recall. France's Groupe Michelin SA sells a system that, after alerting the
driver that a tire has developed a flat, uses a special insert and a
distinctive tire design that allows a vehicle to be driven up to 125 miles
at 55 miles per hour afterward.
"By 2010-2020, the aspect of a consumer changing a tire will be gone,"
says Robert L. Carroll, vice president of marketing at Michelin North
America Inc., Michelin's U.S. subsidiary. People will simply drive to the
nearest service station to get a tire repaired.
Michelin's tire will be standard equipment on the Cadillac luxury roadster
that General Motors will unveil in mid-2002. It is Michelin's first sale of
the technology in the U.S.
Until now, tire makers found it difficult to sell run-flats. They were
hampered by the relatively high cost of such tires and resistance from
car makers, who have reservations about the new technology.
At a recent tire-industry conference in Akron, Ohio, a series of
engineers from various manufacturers presented their varying versions
of run-flat tire systems. But then representatives of GM and Ford got
up and noted that, among other things, the new tire systems can have
an adverse impact on ride and handling.
Daniel Haakenson, a product-development engineer at Ford, told the
group that Lincoln Continentals are offered with run-flat tires for an
additional $640, but only 1.8% of consumers choose the option. He
said the price of run-flat systems would have to drop by more than half
before a large group of consumers would opt for it. Tire makers insist
that, as is the case with any new technology, price will go down as
volumes increase.
Write to Timothy Aeppel at timothy.aeppel@wsj.com