A Revival at Nissan Shows There's Hope for Japan Inc.
November 16, 2000

By NORIHIKO SHIROUZU, JOSEPH B. WHITE and TODD ZAUN
Staff Reporters of THE WALL STREET JOURNAL

Carlos Ghosn, president of Japan's Nissan Motor Co., became a hero
last Thursday in Mississippi, when he stood in the rotunda of the Capitol
and announced that Nissan would spend $930 million to build a huge
auto factory in the largely rural state.

But the most remarkable news wasn't that a car plant could be one of
the largest industrial developments ever in Mississippi. It was that Mr.
Ghosn and Nissan are in position to launch such a project at all.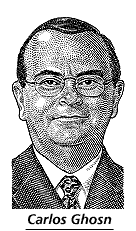 In October 1999, Mr. Ghosn faced television
cameras and declared that Nissan, once an icon of
Japan's postwar industrial renaissance, was in "bad
shape" and announced the most drastic
restructuring any big Japanese company had ever
seen. Mr. Ghosn, a native of Brazil who had built a
reputation as a turnaround artist with French
corporate giants Michelin SA and Renault SA,
declared that Nissan's goal was to return to a profit
by March 2001. Many in the industry wondered if he
would have to make good on his vow to step down
if the effort failed.
But Mr. Ghosn and Nissan so far have confounded
the skeptics. Earlier this month, Nissan reported a profit of 170.2 billion
yen, or $1.59 billion, its best six-month performance in a decade and a
result that left analysts' projections in the dust. Mr. Ghosn says his
plans to cut costs and pay down debt are moving so much faster than
expected that Nissan now predicts that net income for the fiscal year
ending March 31, 2001, will reach 250 billion yen -- more than four
times Nissan's previous prediction made in May.
Nissan now is pushing ahead with an ambitious product blitz that will
include not just the big pickup, sport-utility vehicle and minivan planned
for the new Canton, Miss., factory in 2003, but also the reincarnation of
the celebrated "Z car," the sporty coupe that inspired a cult following in
the U.S. during the 1970s and 1980s.
Mr. Ghosn's surprising success has made him a celebrity in Japan and in
global business circles. Using his outsider status, he is upending Japan
Inc.'s traditional way of doing business, carrying out mass job cuts,
dismantling Nissan's inefficient keiretsu of affiliated suppliers and closing
surplus factories in Japan. By doing so, he has shown that it is possible
to bring market capitalism to bear on Japan's old-line, quasisocialist
corporate culture without catastrophic results.
Mr. Ghosn, who speaks several languages but little Japanese, has even
become a pop icon in Japan. Now, Mr. Ghosn's assistants say, Japanese
businessmen inquire about where Mr. Ghosn got his glasses, where he
gets his hair cut, and where he gets his suits made. His determination
to stay on message has put two new English words in the lexicon of
Nissan executives and suppliers: speed and commitment.
Even rivals are paying respect. DaimlerChrysler AG Chief Executive
Juergen Schrempp recently praised Mr. Ghosn as an "icebreaker" in
Japanese business, and said he planned to follow Renault's example by
dispatching a DaimlerChrysler executive to shape up the
German-American auto maker's new Japanese partner, Mitsubishi
Motors Corp.
As Mr. Ghosn collects accolades, Nissan still has a difficult ride ahead.
Once a strong player in the Japanese car market, Nissan went into
decline in the 1980s and 1990s after missteps overseas. In the U.S.,
the company's abrupt dropping of the Datsun brand name and a string
of bland products allowed Toyota Motor Corp. and Honda Motor Co. to
become the dominant Japanese names in the market.
By 1999, the company was so weak financially that Renault was able to
buy a 36.8% stake for the relatively cheap price of $5.4 billion. As part
of that deal, Renault Chairman Louis Schweitzer installed his then-No. 2,
Mr. Ghosn, as chief operating officer, taking over operational duties
from Nissan's current chairman, Yoshikazu Hanawa.
Now, Nissan is playing catch-up in some key markets. Its entry into the
U.S. large pickup and SUV market, for instance, will come well behind
Toyota and the U.S. Big Three of General Motors Corp., Ford Motor Co.
and DaimlerChrysler's Chrysler Group. Nissan's current products, while
well-engineered and increasingly distinctive, command on average
$1,000 less than they would if they wore a Honda badge, Mr. Ghosn
and other company executives say.
Mr. Ghosn (rhymes with "stone") says in a lengthy interview that the
challenge now for Nissan isn't just cost-cutting in the short term, or
boosting sales long term. It's doing both at the same time. He likens
Nissan's situation to driving a Formula One race car.
"A Formula One pilot, he's constantly using the accelerator and the
brakes. He uses them at the same time ... to go to the max," he says.
Likewise, Nissan must now cut costs, sell assets and reduce debts even
as it builds new factories and invests in new vehicles. "We are at the
same time accelerating and braking," he says.
So even though Nissan managers in Japan aren't done carrying out
plans to close five factories and cut 21,000 jobs worldwide, Mr. Ghosn
is wagering nearly $2 billion on a massive expansion of production
capacity and product offerings in North America. Those plants are part
of a new product blitz that will cost Nissan a projected 310 billion yen a
year in capital spending.
"We have an incredible number of projects we are doing in a very short
time," says Nissan design director Shiro Nakamura, who was recruited
by Mr. Ghosn to liven up Nissan's styling. "I've never experienced this
kind of tough schedule."
No Margin for Error
Nissan's future now depends on getting very little wrong as it executes
the revival plan Mr. Ghosn outlined a year ago. What happens over the
next 2 1/2 years at Nissan will be closely watched in Japan and among
global business leaders who wonder whether Mr. Ghosn and his team
have developed an effective recipe for salvaging Japan's sick corporate
giants -- or whether they will plateau short of their goals as others have
done.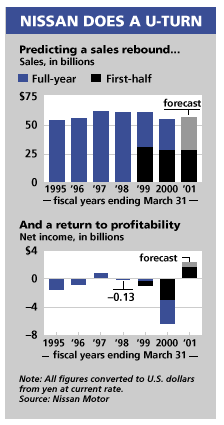 "Mr. Ghosn's management may enjoy a
short-term recovery. But the question
is how long the recovery would last,"
says Toyota Chairman Hiroshi Okuda,
whose company could suffer if a
rejuvenated Nissan starts retaking
market share in Japan and elsewhere.
A veteran of tough turnaround efforts
at Michelin's U.S. operations and later
at Renault, the 46-year-old Mr. Ghosn
is charging ahead at top speed. The
plan to build the new Mississippi plant,
he says, was finalized in just six
months, starting with the decision in
April to develop the new vehicles.
Mr. Ghosn has attacked Nissan's
structural problems with equal haste
since arriving at Nissan's Tokyo
headquarters in the spring of 1999. "I
didn't have a plan in mind. I knew
Nissan by the figures. I have seen
many horrible situations, but if you
limit yourself to the figures it's a very
artificial analysis," he says. To develop
a specific program for Nissan, Mr. Ghosn organized a dozen teams of
Nissan and Renault managers to dissect Nissan's operations. These
teams zeroed in on several big targets: Nissan's purchasing costs, its
marketing strategy, its bulging debts, and its bland products.
Suppliers got the bulk of Mr. Ghosn's focus early on, because
purchased materials and services accounted for 60% of Nissan's costs.
Mr. Ghosn opened his attack by summoning Nissan suppliers to a
meeting last October to explain his plans for slashing procurement
costs by 20% over three years. The atmosphere inside a basement
ballroom in the Takanawa Prince Hotel was "sober," says one attendee.
Mr. Ghosn tried to sell the suppliers on his vision: Cutting prices to
Nissan would also give them access to business with Renault, as the
two companies worked to share common components and materials
across their model lines. But the suppliers got another message as well:
cut prices by 8% as of April 1, 2000, or risk losing Nissan business.
'Deer in the Headlights'
The message hit home at Rhythm Corp., a Hamamatsu, Japan, maker of
ball joints, the part of the suspension that connects wheels to axles.
The shock of Mr. Ghosn's price reduction demand was so "severe that it
stunned us like deer in the headlights," says Takahiko Nakakoji, a senior
Rhythm executive who is head of the company's U.S. unit. But as they
pondered what to do, Rhythm officials learned that Nissan was
maneuvering to find alternative sources for ball joints. By February this
year, Rhythm had decided to accede to the 8% price cut.
Mr. Nakakoji cautions that delivering more savings in the future will get
"exponentially tougher." But he does note that formerly risk-averse
Nissan managers are suddenly more willing to consider suppliers' ideas
for cost-cutting design changes.
Some such ideas have been as simple as skipping a coat of paint for a
part that's usually out of sight, or using a cheaper material. For
instance, Nissan has relaxed its standards for headlight covers, allowing
more bubbles in the plastic than before, which helps lower the cost.
One of Mr. Ghosn's most-sensitive initiatives is to unwind Nissan's
keiretsu. A time-honored, but tottering, pillar of Japan Inc., keiretsu for
decades linked larger manufacturers to their suppliers through cross
shareholdings, exchanges of key managers, and long-term supply
relationships. Experts credit the system as the biggest secret behind
Japanese auto makers' success through the 1980s. The system
ensured that suppliers would deliver high-quality parts as needed to the
assembly line -- a key to the just-in-time manufacturing system.
But U.S. and European car makers have closed much of their
manufacturing-quality gap with the Japanese. Increasingly, larger and
more-integrated parts makers in the West are reaping greater
economies of scale and are underpricing typically small Japanese
suppliers. In addition, the keiretsu system ties up capital that car
makers, particularly a debt-laden company such as Nissan, could better
use on new products.
The man in charge of solving Nissan's keiretsu problem is a rumpled
Frenchman with a passion for numbers, Thierry Moulonguet, a former
Renault executive who now serves as Nissan's chief financial officer.
Enduring the Tea Ceremony
Mr. Moulonguet says he took time to build trust among his Japanese
staff. Early on, Mr. Moulonguet says, he took up an invitation from a
staffer who is a master of Japanese tea ceremony to attend a tea
service one Saturday afternoon. Mr. Moulonguet sat through the
hours-long ritual, much of it squatting on his knees. "It was a big plus
in the relationship with me and the team," he says.
Mr. Moulonguet began chipping away at the complex keiretsu, which
numbered more than 1,300 companies. Nissan began slowly, selling
holdings such as its stake in Akebono Brake Industry Co., its defense
and aerospace divisions and its 20% stake in Subaru-maker Fuji Heavy
Industries. In July, Nissan sold its 38% stake in Ikeda Bussan to
Johnson Controls Inc. Ikeda was at the heart of the keiretsu, earning
about 70% of its 135-billion-yen-a-year business from the auto maker.
Still, Nissan suppliers and others in Japan's auto industry say things will
get rougher. Many of Nissan's remaining parts affiliates are small,
privately held concerns. Because their financial information is sketchy,
Nissan could find it hard to value and sell its stakes.
Liberating capital from the keiretsu is critical to Mr. Ghosn's plans for
revitalizing Nissan's products, particularly in its home market and North
America. In charge of the product strategy is former Renault executive
Patrick Pelata. He has shaken up Nissan's product-planning process by
giving a stronger voice to regional marketing executives and by
challenging Nissan's designers to produce more-distinctive looks.
The first signs of Mr. Pelata's influence won't start hitting the market
until late next year and 2002. Among them: a replacement for its
current Altima midsize sedan that is expected to be larger, more
powerful and sleeker than the current vehicle. The company also has
plans, Mr. Ghosn says, for a SUV based on the same Altima platform.
In North America, Nissan right now has the wind at its back. Sales rose
13% in the first 10 months of this year, pushed by demand for vehicles
such as the Xterra sport utility. "We can't get enough products. We
need capacity," says Washington State Nissan dealer David Bruce
Swanson.
But most auto makers are forecasting a 5% decline in sales next year,
and profit margins in the truck and SUV markets are narrowing sharply
as capacity outstrips demand. Mr. Ghosn says he anticipated tighter
margins in the U.S. truck and minivan markets, and is determined to
push ahead with his new trucks anyway. "It's still the best opportunity
and the best project to do in terms of return on investment that we
have, globally," he says.
Mr. Ghosn says that his main focus now is Japan, where Nissan is
struggling to regain share after 26 years of decline.
"Look at yourself as a Nissan employee. Every month you see market
share going down. It is devastating," Mr. Ghosn says. In the short
term, Mr. Ghosn let Nissan's home market share slide further as he put
a clamp on money-losing discounts. But he vows that by 2002, Nissan
will start growing again. Nissan plans 15 new models for Japan between
now and 2003, he says. The first, the Bluebird Sylphy, is on sale
already. It is a profitable car, Mr. Ghosn says, in contrast to its
predecessor. Coming soon is a small sport-utility vehicle called the
X-Trail, aimed at young buyers.
Gathering Intelligence
Nissan has a lot of catching up to do. It was only last April that Mr.
Ghosn established a marketing department for Japan to gather detailed
intelligence about how Nissan's models were faring against the
competition. "You laugh," he says, "it's real. We had no substantial
analysis, segment by segment, [of] what was going on."
Mr. Ghosn faces numerous other challenges. Nissan is losing money in
Europe, in part because of the weakness of the euro against the yen.
The company's Japanese labor unions have gone along with his
sweeping job reductions so far, but some union officials are complaining
now that Nissan is creating thousands of new jobs in the U.S. even as it
cuts at home.
The pain of the revival plan is especially acute in the city of
Musashi-Murayama, a Tokyo suburb where Nissan is winding down a
vehicle-assembly plant that it plans to shutter permanently on March
31, 2001.
Mr. Ghosn's team, careful to avoid offending the Japanese public and
demoralizing the rest of his work force, has offered new jobs to most of
the plant's 2,800 workers. But they will have to go to the plants to
which Nissan is moving the production lines, as many as 50 miles away,
in some cases living away from home during the workweek.
"This move has been hard on families," says Moriyoshi Koyama, a union
activist who plans to picket the factory today.
A final wild card is how long the charismatic Mr. Ghosn will want to
remain in the driver's seat. The three-year term of his recovery plan
ends March 2003. Mr. Ghosn says his commitment is to remain for as
long "as I think my contribution is critical to the company." That may be
awhile: During his appearance in Mississippi, he declared: "What we have
done today is only 5%. We have 95% to do."
Write to Norihiko Shirouzu at norihiko.shirouzu@wsj.com, Joseph B.
White at joseph.white@wsj.com and Todd Zaun at todd.zaun@wsj.com