Goodyear Defends Tires, Vies for Ford's Business
November 1, 2000

By TIMOTHY AEPPEL
Staff Reporter of THE WALL STREET JOURNAL

Goodyear Tire & Rubber Co. said it aims to surpass
Bridgestone/Firestone Inc. as the largest tire supplier to Ford Motor Co.
in the wake of Firestone's massive recall.

At the same time, Goodyear Chief Executive
Samir G. Gibara sought to defend the Akron,
Ohio, company's own embattled line of tires,
following company disclosures last week of at
least 15 deaths and about 120 injuries related
to failures of a type of Goodyear light-truck tire used mainly on
commercial vehicles, pickups and vans.

Bridgestone/Firestone, a unit of Japan's Bridgestone Corp., launched a
recall of 6.5 million tires in August, and U.S. government regulators are
investigating reports that link Firestone tires to at least 120 deaths,
most of them involving rollovers on Ford's popular Explorer sport-utility
vehicle. Another 40 or so deaths allegedly involving the tires have
occurred overseas. The recall and subsequent tensions between
Firestone and Ford have prompted other tire makers to press for more
of the No. 2 auto maker's business.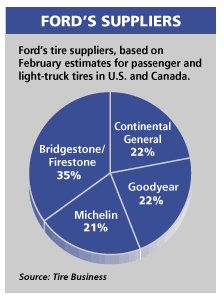 "We're getting a lot of business from
Ford, and there's more coming," said
Goodyear's Mr. Gibara. He said
Goodyear already has agreed to
provide Ford with an additional 1.8
million tires a year, including some of
the tires for the new Ford Explorer,
and is vying to supply another one
million tires annually to Ford.
Prior to the Firestone recall, Goodyear
sold about six million passenger and
light-truck tires to Ford each year, or
about 22% of the auto maker's total,
according to industry estimates.
Meanwhile, Firestone supplies "roughly
a third" of Ford's tires, a Ford
spokeswoman said. "We usually don't
comment on the size of our business with any particular supplier for
competitive reasons," she added. "It's really up to the supplier company
itself to make that kind of assessment."
"Obviously, Ford is a very important customer to us, and they continue
to be a significant customer," said a Firestone spokesman. "We continue
to supply a significant amount of tires to them, and obviously we'd like
the relationship to continue."
The timing and likelihood of Goodyear supplanting Firestone as Ford's
largest supplier are uncertain, since the process of approving new tires
for vehicles is complex and long. Moreover, Goodyear faces competition
from other tire makers, including Continental General Tire Inc. and
France's Groupe Michelin SA, that are trying to snare new business with
Ford.
Goodyear believes it is in a stronger position than its competitors,
having a history of supplying Ford and having come to Ford's defense in
the wake of the Firestone debacle.
Ford emphatically noted that Explorers didn't have the same tire
problems when equipped with Goodyear tires, fueling the car maker's
argument that the rollover problems were tire-related and had nothing
to do with the Explorer. In addition, Goodyear's position as the largest
tire maker in North America gives it more flexibility and ability to meet
new demands for production and delivery, the company says.
Goodyear can easily shift from producing tires for the replacement
market to making tires for Ford.
Goodyear faces 20 lawsuits that have arisen as a result of its own tire
problems. The company said it began examining the tires now under
scrutiny about five years ago, after two damage claims were reported.
Mr. Gibara says the company learned that many of the vans and trucks
equipped with the tires had been modified, with more weight added,
which increases the stress on tires.
One accident involved a 1997 wreck in Saudi Arabia in which three U.S.
Air Force personnel were killed and three injured. The accident occurred
after the tread separated on their GMC Suburban. Goodyear notes that
the Suburban was beefed up with over 800 pounds of armor plating
and that the company had not built the tires anticipating that load.
-- Norihiko Shirouzu contributed to this article.
Write to Timothy Aeppel at timothy.aeppel@wsj.com