Firestone Chief Says Firm Hasn't Found Defects, but Acknowledges a 'Safety Issue'
October 27, 2000

By TIMOTHY AEPPEL and ROBERT GUY MATTHEWS
Staff Reporters of THE WALL STREET JOURNAL

In his first deposition as chief executive of embattled
Bridgestone/Firestone Inc., John Lampe said the company hasn't found
a defect in its recalled tires.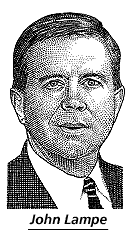 Mr. Lampe acknowledged a "safety issue with a
small percentage of these tires." The difference
between defect and safety issue is technical, but
muddies an already murky situation. Only a
specific flaw, Firestone argues, is considered a
defect and at this point the company hasn't identified precisely what is
wrong with the tires. "We have not discovered the defect or if there is a
defect," he said. "For me, a defect is something you can point to and
say 'This is the cause,' and we haven't been able to find that cause or
combination of causes."
Moreover, a defect would limit the blame to the tire
itself, while Mr. Lampe said he believes the tires only
pose a safety problem when on Ford Motor Co.'s
Explorer sport-utility vehicle. "I think the vehicle
Explorer has a definite role in what we've seen
happen in the past with our tires on the Explorer,"
he said.
The tires have been linked to about 160 deaths in
the U.S. and abroad, most involving rollovers on
Explorers. Ford officials weren't immediately
available for comment, but in the past the car
maker defended its vehicles and said the problem
was with the tires. Mr. Lampe's deposition came as
a group of former Firestone workers from the Decatur, Ill., factory were
deposed in tire-related personal-injury cases. Mr. Lampe became
Firestone's CEO on Oct. 10, when he succeeded Masatoshi Ono.
Such uncertainty involving the cause of the tire failures is being used to
argue for widening the recall beyond 6.5 million tires to cover a far
larger group of related tires that share the same manufacturing process
and raw materials. "If they don't know the root cause, they can't know
if they have really solved the problem," with the recall, says Michael
Hausfeld, one of the attorneys who participated in the deposition.
Mr. Lampe defended the recall, saying that based on adjustment data,
testing and claims data "we feel that we have properly identified
[problem tires] and in fact been over-inclusive in the recall." His
deposition ended abruptly after about five hours, after a federal judge
in Indianapolis granted Firestone's request to delay the proceeding.
On Wednesday, a judicial panel bundled together more than 60
class-action and individual suits connected to Firestone tire-tread
separations -- a move aimed at streamlining the pre-trial discovery
process. Chief U.S. District Judge Sara Evans Barker ruled that
continuing Mr. Lampe's deposition "threatened to undermine the
purpose" of consolidating the cases.
Mr. Lampe also raised the issue of tire pressure, calling 19
pounds-per-square inch the critical threshold of danger. Firestone, a
unit of Japan's Bridgestone Corp., says Ford's recommended 26 psi
didn't leave enough of a safety margin, as tires naturally lose pressure
over time.
In Decatur, former longtime Firestone employees said in depositions
that quality controls weren't always followed and that they believed
defective tires ended up on automobiles. Yet the longtime retired
employees of that plant also defended their co-workers as diligent. The
conflicting testimony was considered useful by attorneys for both the
tire maker and plaintiffs suing Firestone in personal-injury cases.
Jan Wagoner Sr. and Lonnie Dart, both of whom worked at the plant
for 32 years, said plant management valued production over quality.
"The bottom line was to get those tires out," said Mr. Wagoner who
retired in 1995 as a tire classifier inspecting tires for defects.
Mr. Wagoner said inspectors couldn't always keep up with the number
of tires coming down the inspection line and thus couldn't adequately
check them for flaws.
Despite the allegations, each of the workers said rules were in place to
prevent defects and many managers followed the rules closely. Two of
the workers said they are still driving on tires that had been included in
the recall. "I wouldn't be driving on them if I didn't believe," in the
workmanship, said Charles Hilton, who worked for the plant for 34 years
before retiring in 1998.
Write to Timothy Aeppel at timothy.aeppel@wsj.com and Robert Guy
Matthews at robertguy.matthews@wsj.com