Bridgestone Names Lampe CEO Of Its Tire-Making Operations
October 11, 2000

A WSJ.COM News Roundup

Bridgestone/Firestone Inc. Tuesday named American John Lampe as
chief executive and chairman of its tire-making operations, succeeding
Masatoshi Ono, who will retire immediately.

The company, a division of Japan's Bridgestone
Corp., also named Isao Togashi, a Bridgestone
senior vice president for tire production and
production technology, its No. 2 executive,
elevating him the posts of president and chief
operating officer.

Mr. Togashi came to the U.S. after the company's Aug. 9 recall of 6.5
million tires, as Bridgestone sought to deal with the recall crisis. He was
one of Bridgestone's half dozen senior vice presidents.

The choice of Mr. Lampe, represents a break for Bridgestone. Until now,
it was widely assumed the company would never entrust the top post
to someone who couldn't communicate directly in Japanese with the
management back in Japan. But the choice of Mr. Lampe underscores
that the damage to the Firestone name in the wake of the recall.

Mr. Lampe, 53 years old, will focus on rebuilding faith in the company
among customers, dealers, and government investigators, while Mr.
Togashi will concentrate on upgrading the company's plants and
quality-control systems.

"Rebuilding the Bridgestone/Firestone name will require a huge
commitment from everyone," Yoichiro Kaizaki, Bridgestone's chief
executive, said in a conference call. "John Lampe is the right person to
lead the rebuilding effort."

Mr. Lampe faces no small task, given what has happened to Firestone.
The company has suffered after announced a voluntary recall of the 6.5
million tires, linked to 101 deaths in the U.S. and more than 50 fatalities
overseas. Most of the deaths occurred with Ford Motor Co.'s popular
Explorer sports-utility vehicles.

Mr. Ono, 63, said he decided to step down after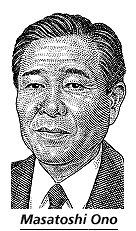 more than 40 years at Bridgestone because of
health problems. He added that his decision to
retire wasn't linked to the recall.
In a deposition Monday, Mr. Ono said he told Mr.
Kaizaki in September that he would like to retire
"because I will be turning 64 next year, and I didn't
feel I was in particularly good health either." The
deposition was taken as part of one of several
lawsuits filed against Bridgestone and Ford.
Mr. Ono also said the public apologies he made
during September's congressional hearings on the
recall shouldn't be construed as an admission of corporate liability.
"At present, we have not concluded whether or not there was a defect,"
he said. "However, we have to acknowledge there may have been
safety-related problems."