Bridgestone Is Expected to Name Lampe As the CEO of Tire-Making Operations
October 10, 2000

By NORIHIKO SHIROUZU and TIMOTHY AEPPEL
Staff Reporters of THE WALL STREET JOURNAL

Bridgestone/Firestone Inc. Tuesday is expected to name American John
Lampe as chief executive and chairman of its tire-making operations,
succeeding Masatoshi Ono.

The company, a division of Japan's Bridgestone
Corp., also plans to name one of three Japanese
executives as its No. 2 executive, most likely
taking the titles of president and chief operating
officer. The officers being considered for this
dual position are Isao Togashi, a Bridgestone senior vice president for
tire production and production technology; Shigeo Watanabe, a
Bridgestone senior vice president for research and development; and
Hiroshi Kanai, a Bridgestone senior vice president for administration
who serves as chief financial officer.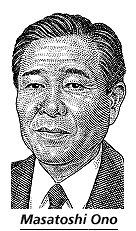 All three men came to the U.S. after the company's
Aug. 9 recall of 6.5 million tires, as Bridgestone
sought to deal with the recall crisis. Bridgestone
has half a dozen senior vice presidents, including
the three executives.
Until now, it was widely assumed Bridgestone would
never entrust the top post to someone who
couldn't communicate directly in Japanese with the
management back in Japan. The choice of Mr.
Lampe, whose strength is marketing and sales,
underscores that the damage to the Firestone
name in the wake of the recall is much more serious
than potential language and cultural barriers and
protocol.
Mr. Ono is expected to lose all his associations with Firestone and leave
for Japan, but it wasn't clear immediately whether he would lose his
position as Bridgestone senior vice president as well.
Mr. Lampe, 53 years old, is expected to focus on rebuilding faith in the
company among customers, dealers, and government investigators,
while the president and chief operating officer will concentrate on
upgrading the company's plants and quality-control systems, as well as
serving as liaisons between Tokyo and Bridgestone/Firestone's
Nashville, Tenn., headquarters.
Mr. Lampe faces no small task, given what has happened to Firestone.
The company has been in a skid since it announced a voluntary recall of
the 6.5 million tires, linked to 101 deaths in the U.S. and more than 50
fatalities overseas. Most of the deaths occurred with Ford Motor Co.'s
popular Explorer sports-utility vehicles.
Last Wednesday, another fatality occurred in Arizona involving a Ford
Explorer with Firestone tires. The owner of the vehicle had taken his car
in to a Ford dealer in Tucson a month earlier, and the dealer had
replaced two front tires and the spare with BF Goodrich-brand tires.
Firestone won't say how deeply sales of the Firestone brand have
suffered in the wake of the recall. "Overall our sales aren't out of line
[for September], except for the Firestone brand," Firestone
spokeswoman Christine Karbowiak said.
Mr. Lampe will seek to restore the shattered morale of the Firestone
work force. One former Firestone executive says the company has been
nearly paralyzed by the uncertainty created when Bridgestone's
tough-talking chief executive, Yoichiro Kaizaki, said last month in an
interview with The Wall Street Journal that he planned to replace the
unit's top management. Most notably, Mr. Kaizaki let it be known that
he had lost faith in Mr. Ono.
Mr. Lampe is credited with rebuilding the company's Dayton tire brand,
which he managed as president from 1991 to 1995. In this role, Mr.
Lampe helped implement an important aspect of Bridgestone's U.S.
strategy.
Part of Bridgestone's plan after it bought Firestone in 1988 was to
develop a multilevel approach to the tire market. Bridgestone is the
premium brand, while Firestone is the middle-tier name. Dayton serves
as the value brand.
During Mr. Lampe's tenure at Dayton, the brand's market share grew
steadily, and he was put in charge of the replacement market for
Firestone-brand tires as a job promotion, working with independent
Firestone retailers.
"He's obviously worked his way up through the company," Ms.
Karbowiak says. "He has the respect and loyalty of his customers --
who are the [tire] dealers."
Mr. Ono was being deposed Monday in Nashville in connection with a civil
class-action suit filed in Circuit Court in Lee County, Fla., seeking to
force the tire maker to broaden the recall beyond the 6.5 million 15-inch
ATX, ATX II and Wilderness tires already targeted for replacement. Mr.
Lampe, along with another Firestone executive, Gary Crigger, is
scheduled to testify in depositions later this week in the same case. Ms.
Karbowiak said none of the Firestone executives would be available for
comment.
While Mr. Lampe already was well regarded as a marketing man, what
further caught the attention of his Bridgestone bosses were his
appearances at two congressional hearings, when he conceded the
company made bad tires and suggested that part of the problem may
be with Ford's Explorer, not just Firestone's tires. In doing so, he stood
up to Ford, which had been pushing all blame and responsibility on the
tire maker, and enraging Bridgestone's Mr. Kaizaki in the process.
"He's sufficiently assertive, which is what you need to be effective as an
American manager in a Japanese company," says Sunil Kumar, a former
Firestone executive who now works in the chemicals industry. Mr.
Kumar says many American executives are intimidated by the Japanese
management style -- which he says is very formal and analytical. "But
John's not intimidated at all," he says.
Last week's accident in Arizona occurred when the tread suddenly
popped off the right rear Firestone tire of Austin Gurule Jr.'s 1999
Explorer as he drove from his home in Tucson to a business meeting in
Phoenix. Mr. Gurule's single passenger, 41-year-old Kenneth Wayne
Ruddy, was thrown from the vehicle and died at the scene.
Mr. Gurule had taken his car in to Jim Click Ford in Tucson a month ago,
where he was told only three of the five Wilderness AT tires on his car
were subject to the recall. The dealer replaced the two front tires and
the spare with BF Goodrich brand tires, leaving two Firestone tires on
the rear. Accidents like this could fuel calls to expand the recall to
include more of Firestone's tires.
Mr. Gurule, a 35-year-old grocery store manager and father of two,
says he had dropped plans for a Labor Day vacation because the Ford
dealership said it didn't have enough tires on hand for replacements.
But by Sept. 9, he says, he grew impatient. He was planning a fishing
trip to Mexico for his 11-year-old son's coming birthday and didn't want
to have to cancel it, so he went to the dealership and demanded that it
take care of his tires.
He says he didn't see any reason to question the proposal to change
only three of the five tires. "I knew the service person, so I trusted his
word," he says.
Jim Click, owner of Jim Click Ford, says two people inspected the tires
when the car was serviced and found that only three of the five were
subject to the recall. The two other tires, he notes, were replaced in
August 1999, which explains why they were different from the others.
"To the best of our knowledge, these two tires were not subject to the
recall," he says.
Andy Vidaure, a spokesman for the Arizona Department of Public
Safety, confirms the accident occurred as a result of a tread separation.
Mr. Vidaure says the failed tire will be retained as evidence -- both for
the state's investigation and for any lawsuits that may arise from the
accident. "At this point, we're continuing our investigation," he says.
Write to Norihiko Shirouzu at norihiko.shirouzu@wsj.com and Timothy
Aeppel at timothy.aeppel@wsj.com