Ford's New Japan Unit Leader Faces Struggle for Recognition
October 9, 2000

By TODD ZAUN
Staff Reporter of THE WALL STREET JOURNAL

TOKYO -- Eiji Iwakuni, a former Honda executive and now the boss of
Ford Motor Co.'s Japanese unit, faces one of the toughest marketing
jobs in the car business.

Ford has tremendous clout as the world's

second-largest auto maker. But here in the world's
second-largest auto market, Ford's cars sell in tiny
numbers. In a sign of how obscure the brand is in
Japan, Mr. Iwakuni says that the recent U.S.
controversy over accidents involving Ford Explorer
vehicles equipped with Firestone tires may even
help Ford here by making the Explorer better
known.
"For brand awareness, the problem has had the
effect of an advertisement," he says.
That Mr. Iwakuni can find hope in the tire crisis
underscores Ford's unenviable situation in Japan. The U.S. car maker's
sales here have fallen in the past four years and now accounts for just
0.4% of the Japanese vehicle market.
The energetic Mr. Iwakuni promises to change that. He has an ambitious
plan to overhaul Ford's lineup, jazz up its dealerships and spread his
sales fervor to a dispirited work force. He says his ultimate goal is to
revamp Ford's brand image in Japan, to give an air of prestige to the
blue-and-white oval badge.
Mr. Iwakuni says his effort is a top priority for Ford, because Japan is
the linchpin of the promising Asian market. "If Ford doesn't succeed in
Japan, it can't succeed in Asia and won't be a world leader," he says.
But it remains to be seen if Mr. Iwakuni's Detroit bosses share that
view. Ford has focused much of its energy in Japan on reviving Mazda
Motor Corp., in which it holds a 33.4% stake, but in doing so has
largely neglected its own brand. Ford's sales in Japan peaked at 86,726
vehicles in 1990, but 90% of those cars were Mazda-manufactured
vehicles with Ford nameplates. Worried that dressing up Mazdas as
Fords was creating an identity crisis for both companies, Ford stopped
offering many of the models, and Ford Japan's sales sank to 16,551
vehicles last year.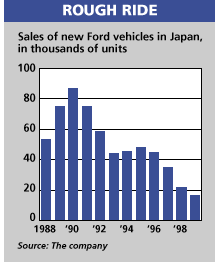 But dropping Mazda-made cars is just
part of the explanation for the feeble
performance. Dealers say Ford is
repeating the past mistakes of
American auto makers in Japan by
failing to tailor its models to the tastes
of Japanese drivers. One example is the
Ka, a subcompact manufactured in
Spain that Ford began exporting to
Japan last year. The Ka has the kind of
fun, quirky look that appeals to buyers
here, but dealers complain that the car
is available only with a manual
transmission, while most Japanese
prefer automatics. Sales of the Ka have
stalled at less than 200 vehicles a
month.
"It's a cute car but we can't sell it," says Motoo Katsumata, who runs a
Ford franchise and a network of Toyota dealerships northeast of Tokyo.
Another problem, dealers say, is that Ford spends so little on
advertising in Japan that its cars are virtually unknown.
Ford headquarters counters that it doesn't make sense to spend a lot
of money in Japan until volume picks up. "We need to balance our cost
with our expectations," says a Ford spokesman in Detroit.
Ford didn't always have such troubles. The company was the first to
manufacture cars in Asia and was the leading auto maker in Japan
before World War II. But the company was expelled on the eve of the
war and by the time it returned, Toyota Motor Corp., Honda Motor Co.
and half a dozen other domestic car makers had grown into fierce
competitors.
Ford's history here means most Japanese know the company, but it has
a reputation for making big and clunky vehicles. Ford had a minihit with
the Taurus sedan in the mid-1990s but dropped it when sales fell.
Mr. Iwakuni took charge of Ford Japan 18 months ago after a 32-year
career at Honda, where he became known for his ability to revamp ailing
dealerships. To improve Ford's image, Mr. Iwakuni is closing decaying
and unprofitable dealerships, sprucing up showrooms and telling
salespeople to focus on meeting customers. He hopes that with shinier
showrooms and better service he can give Ford a refined imported-car
image similar to that of Audi or Volvo, albeit lower on the price and
prestige scales.
He points to the Ford Koga dealership, just outside Tokyo, as an early
success. The dealership is on pace to triple its 1998 sales, says Kayomi
Shimizu, the 48-year-old manager.
Ms. Shimizu's salespeople call on car shoppers at their homes and
handle customer complaints personally. They are also studying English,
hoping to tap into one group of customers that know Ford's vehicles
well -- American expatriates living in Japan.
But the Koga dealership is an exception. Ford sold just 1,000 Explorers
in Japan last year and 800 Mustangs. Even its best-selling Freda, a
reworked Mazda minivan, sold just 2,500 units. To really give the Ford
name new appeal here, dealers say Ford needs new models, especially a
replacement for the Taurus as an entry-level sedan.
Ford plans to introduce four new or redesigned vehicles in Japan by the
end of next year. But Mr. Iwakuni doesn't seem convinced his bosses
are ready to pony up the money for the advertising and design tweaks
that may be needed.
"I understand that if you don't have volume you can't spend a lot of
money," Mr. Iwakuni says. "But looking at it from Japan, if products
don't match customers' tastes, we can't expect to generate much
volume. If anyone has a trick to solve this problem, please teach it to
me."
Write to Todd Zaun at todd.zaun@wsj.com