Auto Makers Capitalize on Boom With More Midsize Luxury Cars
October 4, 2000

By SCOTT MILLER
Staff Reporter of THE WALL STREET JOURNAL

PARIS -- When DaimlerChrysler AG pulled the cover off a compact
version of its popular C-Class at the auto show here, other luxury-car
makers probably weren't thrilled, but it was especially bad news for
mass-market makers like Ford and GM.

The new Mercedes, called the Sports Coupe, is the latest in a string of
attacks that luxury-car makers such as Bayerische Motoren Werke AG
and Volkswagen AG's Audi are launching on "volume makers."

Searching for new markets and armed with coveted hood ornaments,
upmarket makers are elbowing in on the profitable "midsize" segment
that has been the bread and butter of Ford Motor Co., General Motors
Corp.'s Opel and PSA Peugeot-Citroen, to name but a few.

The extra competition comes at a bad time for many of the
mass-market makers. Several are launching new models -- Renault SA's
Laguna, the Citroen Xantia, the Ford Mondeo and an updated version of
the VW Passat are coming to market -- and excess capacity is already
squeezing profits across the industry. Besides, the midsize market is
shrinking.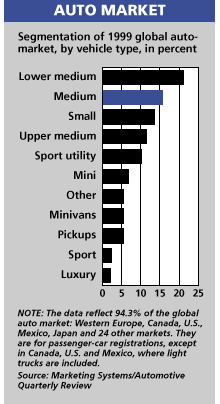 To be sure, luxury makers have been
eating into mass-market makers'
business for several years. BMW, with
its compact 3-Series, demonstrated
how successful such a strategy could
be a couple of years ago. Now,
however, the trend is gathering speed.
So why would luxury makers want to
move into a dwindling segment? First of
all, it isn't entirely new territory.
Industry analysts point out that
luxury-car makers are just making the
same size cars as they did decades ago.
BMW says one of its 3-Series models is
about the same size as one of the
5-Series editions from 20 years ago.
But as much as anything, the midsize
market may simply look like easy
pickings. It doesn't cost much for a
company to cut the size of one of its
existing models as long as major
components remain the same. Indeed,
luxury-car makers' share of the midsize segment is now up to about
26%, Ford says, from nothing 10 years ago. And what the upmarket
players have to offer is prestige for a slightly higher price.
The move has been most pronounced in Europe. The luxury market
there has only limited room for growth, so makers like Mercedes and
BMW have had little choice but to cast their nets wider. But it is also
gaining momentum in the U.S. Mercedes-Benz, for example, plans to
launch its small "Baby-Benz A-Class" in the U.S. in a few years. And
Ford's Jaguar is working on a cheaper edition in hopes of boosting U.S.
sales. Asian drivers, meanwhile, especially the Japanese, have shown a
growing appetite for premium nameplates on cars that fit on their
narrow roads.
"Moves downmarket really got their start in Western Europe, said
Jonathan Storey, an analyst at European Auto Research in England.
"But we are increasingly seeing luxury makers test the other two big
markets, the U.S. and Asia." According to his data, the share of the
medium-size segment luxury makers have grabbed is likely to grow to
20.2% this year from 17% in 1998.
Of course, mass brands aren't taking the heightened competition lying
down. The Mondeo, which won't go on sale for a couple more months,
is Ford's attempt to reclaim a larger share of the midsize segment. Ford
conducted 104 focus groups and found there was room for a model
priced below the luxury makers' models, as long as it offered features
they didn't.
So the company made sure there was ample room in the back seat, a
weak point on the new Mercedes and BMW 3-Series compact, and
loaded in safety features such as a side-impact curtain.
Opel is working on a replacement to its Vectra model, say industry
analysts. Like Ford, Opel hopes that a value-for-money campaign will
help turn the model around.
Auto-industry executives say rising personal incomes are giving luxury
makers a boost in the midsize sector. Unlike in lower segments, where
consumers may be more cost-conscious, people willing to step up to a
midsize car can sometimes be tempted to shell out a little more to get a
luxury model.
For their part, luxury makers say they have grown a little more
comfortable with at least one major dilemma: How to keep up the
perception of brand exclusivity while selling ever greater numbers of
cars, in more segments.
BMW is developing its small car with the intent of having the same basic
look and emphasis on performance as its bigger brothers. Unlike nearly
every other car in its class, for example, the new car will have rear-wheel
drive, which many analysts consider to be key to high-performance
handling. It won't be cheap, perhaps carrying a price in excess of
40,000 marks ($17,960). A new Golf costs about 25,000 marks.
Write to Scott Miller at scott.miller@wsj.com