Volvo, in Industry First, Turns to AOL To Spread Word on Its Latest Vehicle
September 25, 2000

By KAREN LUNDEGAARD
Staff Reporter of THE WALL STREET JOURNAL

At a time when some advertisers are questioning how well Web ads
really work, Volvo Cars of North America is gambling big that they can.
The auto maker is launching its latest car, the S60, completely online,
with no television advertisements and no national print campaigns, save
for a couple auto-buff magazines.

Sound like a risky scheme? Quite possibly, but it also will be a
high-profile test for the online advertising industry and Internet
powerhouse America Online Inc. In the auto industry's first true digital
launch, Volvo, a unit of Ford Motor Co., has turned to AOL and its more
than 24 million subscribers to get the word out on its new luxury sports
sedan, which it is counting on for one-fourth of its projected 155,000
North American vehicle sales next year.

It is the first deal of its kind for AOL, and the online service provider is
touting it as proof of "the value of the audience as well as the reach we
can bring," says Mark Hosbein, AOL's vice president of interactive
marketing.

The deal is also a shot in the arm for online advertising generally, say
analysts. "It's a great validation of the medium," says Marissa Gluck,
advertising analyst for Jupiter Research of New York.

The deal, the value of which the companies won't disclose, includes
banner and column advertisements on various pages throughout AOL's
maze of services and rooms, including its auto area, a men's-interest
room and its map site, MapQuest.com. The ads will direct surfers to a
Web site Volvo has set up for the vehicle, revolvolution.com. AOL
subscribers will also be offered up to $2,100 of free options on a vehicle
-- a giveaway that gets Volvo prime space on AOL's welcome page,
which displays promotions at AOL's discretion.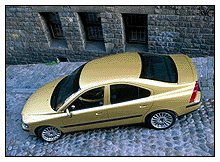 Volvo is also mailing out 500,000 CD-roms showcasing the vehicle, which starts at $26,500. And it's offering giveaways for those who get to the dealerships to test-drive the vehicle, including 10 cars and trips to Sweden to pick them up from its factory there.
Volvo will advertise in car-buff
magazines, such as Motor Trend and
Car and Driver. "But that's sort of the
price of entry to get your car reviewed,"
says Phil Bienert, Volvo's manager of
e-business.
The auto maker is planning some
traditional media advertising beginning
next year. But for the S60, which should arrive in showrooms in
mid-October, that might be too late.
"There's an axiom in the business that you never recover fully from a
weak launch," says Tom Healey, partner at automotive research firm,
J.D. Power & Associates, Agoura Hills, Calif. Volvo's online-only strategy
"strikes me as a risky idea, particularly for a launch."
The campaign, to a degree, was born of necessity. This is Volvo's third
new-vehicle launch this year from a company that used to "introduce a
new car every 10 years," says Bob Austin, manager of national
advertising. "We were using up a lot of our resources both mental and
financial."
Particularly financial. Mr. Austin says he spent approximately $20 million
on each of the other launches, for the V70 wagon in April and for the
Cross Country, an all-wheel-drive model dressed up to look like a
sport-utility vehicle, introduced last month. Both of those campaigns
relied heavily on TV, particularly cable.
When he looked to add another $20 million launch campaign to the
budget, "I had a little trouble with the number," says the 30-year Volvo
executive. Making matters worse: the premium prices on TV ads
because of the election, Mr. Austin says. "It seemed like this was the
perfect opportunity to test how to operate in the new environment."
He adds that if the deal had only included banner ads, he wouldn't have
done it. "Classic banner advertising has failed to impress me. Almost no
one references anything you've done online."
But combined with the free options, the trip giveaway and prominent
placement, he thought it was worth it. The launch, including the
giveaways, will cost Volvo roughly $10 million. Furthermore, 89% of
people who own a model 2000 Volvo vehicle are Internet users,
according to Strategic Vision Inc., a San Diego automotive-research
firm.
Still, "it's a big risk" for Volvo, says Jim Nail, a senior analyst specializing
in online advertising at Forrester Research Inc., Cambridge, Mass. "The
Internet is not a strong awareness-building vehicle for a new product."
It is better, he notes, as customers try to learn more about a product
or decide between a few. But, he adds, if he were counting on the
product for 25% of sales next year, "I would do a blend of online and
offline from the word go."
That is the way most advertisers, particularly auto makers, approach
the Internet. Japan's Toyota Motor Corp. is now selling its new Prius
sedan, which runs on both gas and electricity, only online. It still must
be bought and picked up at the dealership, but it's not available in the
showroom. But it is advertising the move throughout the airwaves and
print media. Volkswagen AG tried a similar gimmick this past spring,
offering its new Beetle in two online-only colors, vapor blue and reflex
yellow. That too was advertised in traditional media.
Volvo dealers, who will be stuck paying the interest of cars sitting in
their lots if the strategy doesn't work, seem to be offering qualified
support for now. Volvo briefed its dealers on the basics of the campaign
at a July meeting.
"Nobody went into shock," said Frank Dwyer, a suburban Detroit Volvo
dealer who attended. "Everybody was very excited about the car. They
weren't too nervous about the advertising." He personally isn't worried,
though he thinks it will be interesting to see if it works.
Volvo's corporate executives acknowledge the risk. "It could blow up in
my face," says Mr. Bienert, who is handling much of the campaign. "But
at the same time this thing could be huge. This could be a whole new
way to launch cars. We don't know."
Mr. Hosbein won't even discuss what it means for AOL if the campaign
fails. "We're committed to get results for these guys," he says. "We've
said we'll put the messages for this product in the places where we
think you'll get the reach that you need."
Write to Karen Lundegaard at karen.lundegaard@wsj.com